Closet Culture Modular Closet System
Friday, November 11, 2016
Contact: 
Marketing & Communications
Knape & Vogt Manufacturing Company
(800) 253-1561
Elegant but strong Closet Culture system
puts Knape & Vogt in the modular closet game
GRAND RAPIDS, Michigan—Knape & Vogt has announced a newcomer to its traditional closet hardware line: A heavy-duty modular closet system with upmarket appeal.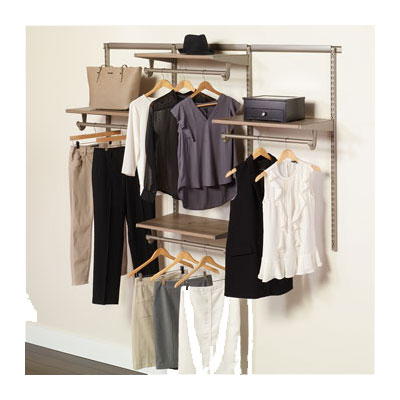 The Closet Culture™ modular closet system is based on a hang rail mounted onto wall studs. Supporting components include standards, shelf brackets, closet poles and closet pole hooks that attach to the hang rail to complete the closet structure.
Components are constructed of heavy-duty steel with a champagne nickel finish. The system is engineered to be strong while maintaining a decidedly upmarket feel, according to Peter Ross, vice president of marketing and product development for Knape & Vogt.
"Closet Culture is different than your typical modular system because although it has an elegant, upscale look, the heavy-duty steel makes it very sturdy and strong," he said. "The moderately experienced DIYer can put a closet together over the weekend, with the hang rail base allowing for quick installation and easy leveling."
Hang rails are sold in 4-ft. segments, along with 48-inch and 78-in standards, 16-inch shelf brackets and closet poles in 2-ft segments that connect together for longer lengths.
Accessories can be added for additional function, said Ross, including wire mesh baskets with or without a pull-out surround, a pull-out pants rack, shoe rack, wire shelves and wood shelves in three finishes. The system can be built in multiple configurations to fit varying spaces and closet needs of homeowners.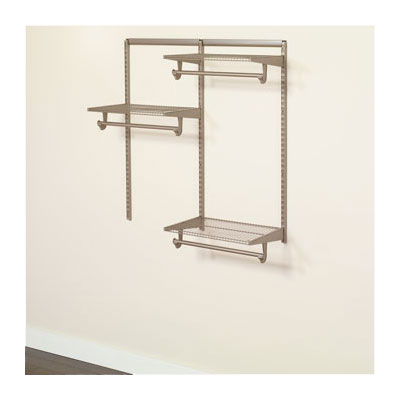 Closet Culture modular closet system is sold as individual components and in 4-ft., 6-ft. and 8 ft. kits at major home stores across the U.S. The kits include hang rail(s) with covers, standards, shelf brackets, closet poles, closet pole hooks and installation hardware. Wood and wire shelves, accessories and decorative fascia are sold separately from the kits.
"Bottom line, Closet Culture system is sophisticated looking, easy to assemble, sturdier than the competition and affordable," said Ross. "We're excited to bring something so durable yet so beautiful to homeowners looking for a DIY closet alternative."
About Knape & Vogt
Knape & Vogt Manufacturing Company, headquartered in Grand Rapids, Michigan, is a privately held company with 1,200 employees and nine facilities worldwide. KV is a global leader specializing in the design, manufacture and distribution of functional hardware, office and healthcare ergonomics products and storage-related components for original equipment manufacturers, specialty distributors, hardware chains, and major home centers.