New 150-lb. class drawer slide
Tuesday, September 13, 2016
Contact: 
Marketing & Communications
Knape & Vogt Manufacturing Company
(800) 253-1561
New Knape & Vogt 8600/8605 150-lb. class drawer slide
is designed for deep, wide drawers
Heavy-duty slide accommodates large drawers on a traditional ½" profile
Knape & Vogt announces a new 150-lb. class heavy-duty ball-bearing slide designed to accommodate the larger drawers in demand in today's residential and commercial furniture. The KV 8600 full extension and KV 8605 over travel slides are designed on a ½" profile to accommodate large drawers with heavy load capacity in a standard-size base cabinet.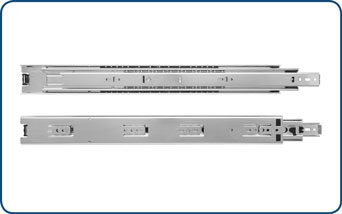 The 8600 Series slide is available in sizes from 12" to 28" for use with drawers up to 36" wide. The 3-member telescopic- action slide has a double wrapped center member for added strength and capacity, yet its profile retains the typical ½" clearance used for lighter-duty applications in standard (24") base cabinets.
The slide is designed for deep, wide drawers used primarily for heavier storage in commercial settings including in such applications as custom cabinetry, lateral files and lab cabinets where drawers with high weight load capacity – up to 150 lbs.– are common.
Wider drawers also are trending in residential applications as an alternative to the less-accessible fixed shelving usually found in under-cabinet storage.   
"A 150-lb class slide that retains a half-inch profile is a first in our heavy-duty ball bearing line," said Knape & Vogt Vice President for Marketing and Product Development, Peter Ross. "It gives cabinet makers more strength and stability in commercial custom installations and office files as well as in residential applications where wide-drawer load capacity may extend beyond a 120-lb class slide."
About Knape & Vogt
Knape & Vogt Manufacturing Company, headquartered in Grand Rapids, Michigan, is a privately held company with 1,200 employees and nine facilities worldwide. KV is a global leader specializing in the design, manufacture and distribution of functional hardware, office and healthcare ergonomics products and storage-related components for original equipment manufacturers, specialty distributors, hardware chains, and major home centers.