New Steel Flat Rail Barn Door Hardware
Contact: 
Marketing & Communications
Knape & Vogt Manufacturing Company
(800) 253-1561
KV ADDS STEEL FLAT RAIL STYLES TO ROUND OUT
COMPREHENSIVE LINE OF BARN DOOR HARDWARE

GRAND RAPIDS, MI— Knape & Vogt recently added Steel Flat Rail line to its comprehensive offering of Barn Door Hardware. Designed to effortlessly move wood doors weighing up to 250 lbs., steel flat rail components are a perfect fit for high-end commercial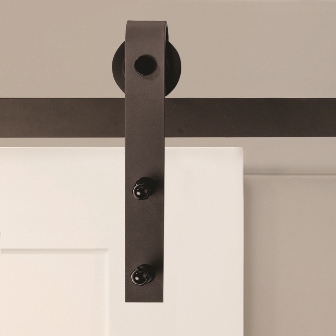 and residential properties, including offices and hotels, as well as ensuite bathrooms or warehouse room divider. Besides offering space-saving functionality, this stylish hardware system transforms the aesthetic of any space, from rustic to contemporary.
Like KV's other barn door hardware designs, steel flat rail hardware adds form and function to any space. Hanger options in four finishes allow perfect matching to the surrounding décor. The wheel style and fasteners also are carefully coordinated with the hanger design to give each configuration its own unique appeal. (At right: Face Mount Hook Style) Complete kits and separate components are available from hardware distributors across North America (not yet available on this site). Steel flat rail is an ideal choice for designers and specifiers with sought after features including:
Reliability – Ideal for high-end and high-traffic offices and hotels and homes with decorative solutions designed to effortlessly move wood doors weighing up to 250 lbs.
Aesthetics – Creates a stylish focal point offering a vibe ranging from rustic to contemporary depending on the style and finish
Durability – Effortlessly moves larger wood doors (maximum 250 lbs.)
Variety – Available in two carrier styles and four durable finishes: Stainless steel, black, oil rubbed bronze and white
New Soft-close Add-on, Bypass Bracket
New accessories also have been added to the current line: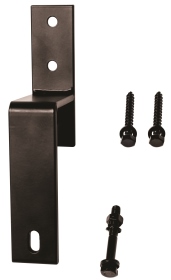 The new steel flat rail segment is conveniently pre-drilled to allow use of KV's new Soft-close mechanism, which can be added to allow a smooth, quiet close. It is also compatible with the KV aluminum flat rail. (Drilling required)
The Bypass Bracket (shown right) is used in a 2-door door by-pass door configuration.
ADA-compliant Privacy Barn Door Locks in three finishes are available for commercial or residential use.
The KV Barn Door Hardware line includes …
Most of KV's extensive line of barn door hardware is available on this site and also includes stainless steel flat and round rail designs with seven total carrier styles, along with aluminum flat rail hardware in sleek black with four carrier styles and aluminum round track hardware with eight carrier styles in three designer finishes. KV Barn door hardware is sold in complete kits with rails/tracks sold separately in 4-foot, 6-foot and 8-foot lengths.