Volante Desktop Sit-Stand Workstation
Contact: 
Marketing & Communications
Knape & Vogt Manufacturing Company
(800) 253-1561
Download hi-res images of Volante here
Lightweight, compact Volante™ Desktop Workstation is KV's newest sit-stand solution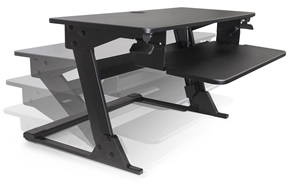 GRAND RAPIDS, MI—Knape & Vogt has launched an "out-of-the-box" desktop sit-stand workstation that is smaller, lighter and quieter than its popular competitor and boasts infinite adjustment within its 13.8" height range along with 20 degrees of keyboard tilt. The Volante™ Desktop Sit-Stand Workstation is extremely price competitive as well, according to Knape & Vogt Senior Marketing Director Scott Sheppard.
Volante is the newest offering in the current trend of desktop sit-stand workstations favored by office workers for their immediate, easy usability. "Volante comes pre-assembled, so you can just take it out of the box, place it on the desktop and start working," said Sheppard. "No tools are needed for setup and at less than 40 lbs. it is light enough for one person to install or move from desk to desk."
The workstation features a compact footprint that allows placement on work surfaces as shallow as 24 inches versus competitors that require 28 inches of desktop depth. Side-mount hand-operated levers control the gas-assist height adjustment technology, which provides smooth operation and infinite height-setting functionality.
"The gas-assist technology allows users to lock in their preferred ergonomic height with one quick, quiet movement, instead of noisy, inch-by-inch adjustment up or down," said Sheppard. "At full elevation, the primary work surface is positioned 20 inches above the desk surface. Users can alternate quickly and easily between seated and standing postures, reducing the risk of backache, pain, stress and tension."
Volante's useable work surface is large enough to accommodate two 24-inch monitors and supports up to 35 lbs., according to Sheppard. "The large keyboard surface holds a keyboard and a mouse," he said. "Plus the neutral black finish will complement any working environment."
About Knape & Vogt
Knape & Vogt Manufacturing Company, headquartered in Grand Rapids, Michigan, is a privately held company with 1,200 employees and nine facilities worldwide. KV is a global leader specializing in the design, manufacture and distribution of functional hardware, office and healthcare ergonomics products and storage-related components for original equipment manufacturers, specialty distributors, hardware chains, and major home centers.