8650FM/8655FM Series Heavy-Duty Slide Features Soft-Close
8650FM/8655FM Series Heavy-Duty Slide Features Soft-Close
A new first in KV's lineup of precision ball-bearing drawer slides, the 8650FM/8655FM Series is our first heavy-duty soft-close slide for wide drawers with high weight load capacity. It is built on our successful 8450FM Series soft-close platform, which is widely used in custom commercial and residential applications.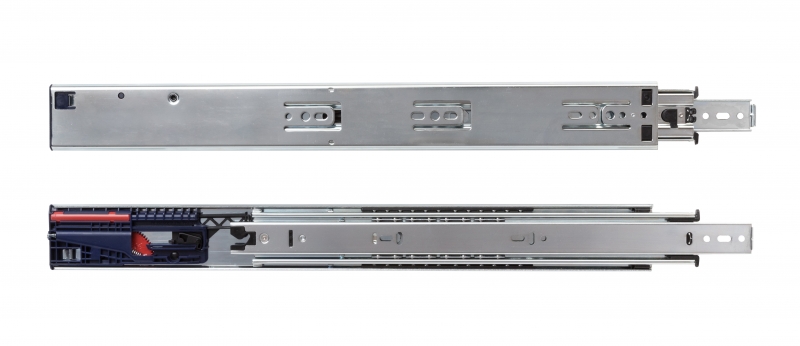 "FM" or "force management technology™" is a KV-patented design that manages pull force and results in a drawer that opens smoothly and closes softly and securely with no rebound. Soft-closing drawers are in demand in today's higher end kitchen cabinetry and wood office furniture designs.
The heavy-duty slides are designed to accommodate wider drawers with heavier loads and are recommended for use in drawers up to 36" wide.
The 8650FM Series is a full extension, 150-lb class heavy-duty slide. The 8655FM Series is a 140-lb class slide with 1" of over travel. The slides are designed on a 1/2" profile and feature a butterfly lever disconnect for ease of installation. The 8650FM is available in lengths from 14" to 28" while 8655FM is available in 18" to 28" lengths.
With the addition of 8650FM and 8655FM, KV brings to market an entire family of soft-close slides in the medium- to heavy-duty range. The heavy-duty soft-close series offers cabinet makers have even more capacity and strength to work with in fine residential cabinetry and millwork, as well as in high-end commercial case work and other wood applications.