A Height Adjustable Desk Is Not the Answer
A Height Adjustable Desk Is Not the Answer
Peter Barber, Senior Product Manager, Knape & Vogt Manufacturing Company
We've seen it in the news and on TV: Sitting is bad for you. We've heard "sitting is the new smoking"; office workers suffer from "sitting disease," and on and on.  To counter the danger, recent studies suggest, even modest decreases in sedentary time can help reduce risk of obesity, cardiovascular diseases, diabetes and premature mortality.
It's no wonder there's been a push lately to furnish the office with some kind of stand-up desk.
The thought is that a height adjustable table can make all the difference, allowing office workers to stand, sit, and be productive throughout the day.
But a table alone isn't the answer.
The Rules of Ergonomics
In a seated position, the proper ergonomic posture is neutral—shoulders relaxed with elbows close to the body, wrists straight and in line with forearms; elbows and knees at about 90 degrees in relation to the torso. The distance between eyes and computer monitor should be about arm's length, with the top one-third of the screen positioned at or below eye level.
Keyboard and monitor supports allow these components to be positioned to provide ergonomic comfort, preventing stress, strain and potential injury.
When a worker is in a standing position, most rules of ergonomics still apply. Whether sitting or standing, the keyboard and computer monitor must be angled properly and positioned at the right height and focal distance for the individual user.
That's why a height adjustable table by itself is not the answer. It is, however, one component in an ergonomically correct sit-stand system.
A Complete Sit-Stand Solution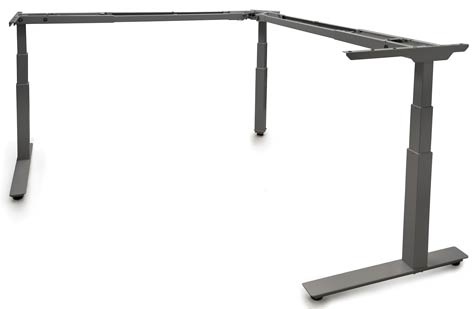 The Allegretto Height Adjustable table frame from Knape & Vogt offers 26" in height adjustment.
Start with a height adjustable table, available with functions including a hand-crank, 2- and 3-stage electric and other adjustment styles, with height ranges to accommodate workers of varying stature.
Add in a standard keyboard arm. Knape & Vogt Waterloo offers the Tenor arm (specifically designed for electric height adjustable tables) or choose from other models such as the Legato, Momentum and Ovation keyboard arms. All are ANSI/HFES, 100-2007 and BIFMA G1-2002 compliant. Each provides full height and full tilt adjustment (as well as full storability) so users can find their unique optimal position, sitting or standing, while using a height adjustable table.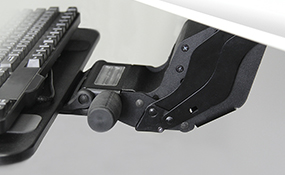 The Tenor arm is designed for use with height adjustable tables.
Next, a monitor arm supports single or multiple flat panel displays at the correct height, angle and focal distance for ergonomic viewing. Knape & Vogt's Concerto and Xtend monitor arms feature best-in-class reach and height adjustability with sleek designs and easy installation.
Finally, Knape & Vogt makes accessories available, including a laptop support, tablet holder, document holder, foot rest and CPU holder to round out the complete sit-stand workstation based on a height adjustable table.
Sitting or standing, today's office worker needs furniture and components that adjust to the person, not vice versa. Selecting a suite of products can turn a height adjustable table into a complete, ergonomically correct sit-stand solution.
Want to know more about ergonomics and the sit-to-stand trend for the office? Download the free whitepaper by Peter Barber: "Sit-to-Stand To Move."