New Concerto Dual Monitor Support
Contact:
Marketing & Communications
Knape & Vogt Manufacturing Company
(800) 253-1561
Concerto Dual Monitor Arm Supports Two Screens with Independent Height Adjustment, Stores Easily in Small Spaces
GRAND RAPIDS, Michigan, August 2016— Knape & Vogt has announced the Concerto Dual monitor arm, the latest addition it to its Concerto system of flat screen monitor supports and components.
The Concerto Dual (7826HD02) supports two screens on a dual hub connection and provides independent height adjustment for each screen. The hub design also offers improved storage capability over pole-fixed arms, making the Concerto Dual ideal for shallow desks and benching systems found in today's office.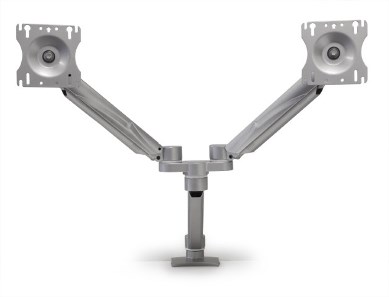 "The Concerto Dual adds to the versatility of the Concerto system of products," said Senior Director of Marketing at Knape & Vogt, Scott Sheppard. "It is the ideal solution for dual screen configurations where height adjustment is required for each monitor. Its dual hub design also allows storage in less than five inches of space, perfect for small or narrow work spaces."
Concerto Dual's independent height adjustment capability allows for screens of differing sizes and VESA mounting locations to be adjusted to desired positions. Each arm assembly features counterbalanced spring adjustment with height adjustment ranging to 13" for seated or standing use and depth adjustment up to 14". Each arm supports monitors up to 24" and 14 lbs.
The new monitor support is the latest to debut in the Concerto family, a modular system of monitor arms components that is ultra-adaptable in a wide variety of applications in today's ever-changing office environment.
See the Specifications
About Knape & Vogt
Knape & Vogt Manufacturing Company, headquartered in Grand Rapids, Michigan, is a privately held company with 1,200 employees and nine facilities worldwide. KV is a global leader specializing in the design, manufacture and distribution of functional hardware, office and healthcare ergonomics products and storage-related components for original equipment manufacturers, specialty distributors, hardware chains, and major home centers.