5 things to know before you install that barn door of your dreams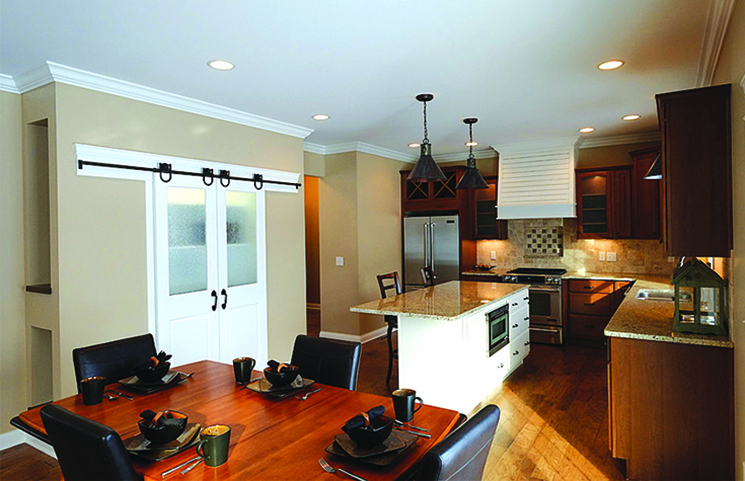 Space-saving barn doors add beauty and function to almost any room. Empty wall space next to the opening allows the door to slide freely.
Before you install that interior sliding barn door you've been dreaming about, here are some things to consider:
1. Quality hardware is a must
Your barn door will be a focal point in your home, so it needs to look great, perform flawlessly and hold up under the wear and tear of everyday use. High quality hardware is durable, moves smoothly and quietly and beautifully complements your décor. It may cost a little more, but it will be worth it in the long run. Naturally we suggest the KV line for durable aluminum flat rail, round rail or stainless steel hardware kits in popular styles and finishes, sold through major hardware distributors. Now also available here on this site.
2. You need the right kind of space
A barn door can free up space compared to a swinging door, but it also needs room to slide along its track. If you're mounting a single door, you need wall space on one side of your opening that is at least the width of the door, so it can slide completely open. For double doors you need wall space the width of an individual door on each side of the doorway. Make sure the wall has no light switches, outlets, windows, vents, doors or artwork that might impede the door or scratch it as it slides open.
3. The door must be wider than the doorway
That's right. Barn doors hang from a track outside the room, covering the doorway, but leaving gaps at the sides between wall and door. For complete coverage and to minimize the gaps, make sure the door is at least several inches wider than the opening. For example, a 4-foot door will cover a 3-foot opening with 6 inches on either side, reducing the gaps. Buy a track that's twice the width of your door:  A 4-foot wide door takes at least 8 feet of track to slide completely open. For wider doors, cut the track to fit and join the pieces with connectors available from the hardware manufacturer.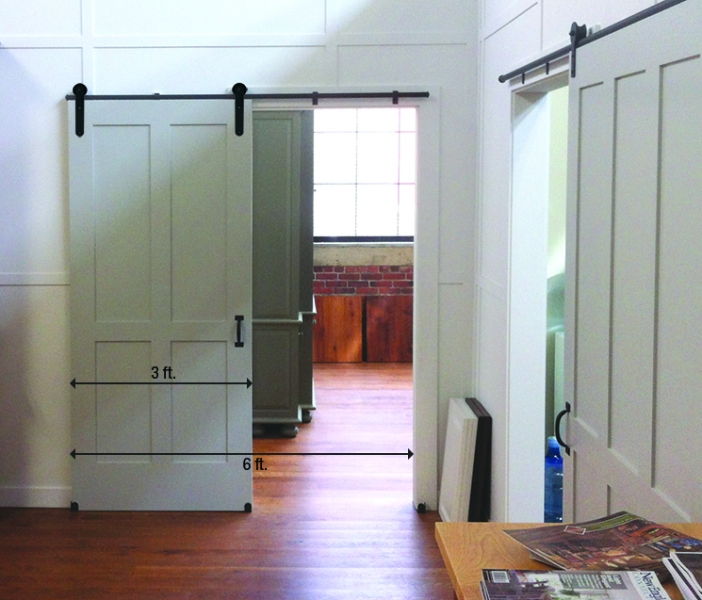 A 3-foot door requires 6 feet of track.
4. Structural support is required
Barn doors can be heavy – up to 200 pounds or more, so for sturdiness, most people mount the track to a header, attached to the wall studs, above the doorway.  A 2 x 6 cut twice as long as your track should do the trick. If you mount on wall studs, be sure there is a stud or wood block at every interval on your track, including beyond the door opening. Wall anchors are not sufficient support for hanging these doors. Bonus: Mounting your door to a header positions the door far enough from the wall to clear the door frame and trim when sliding.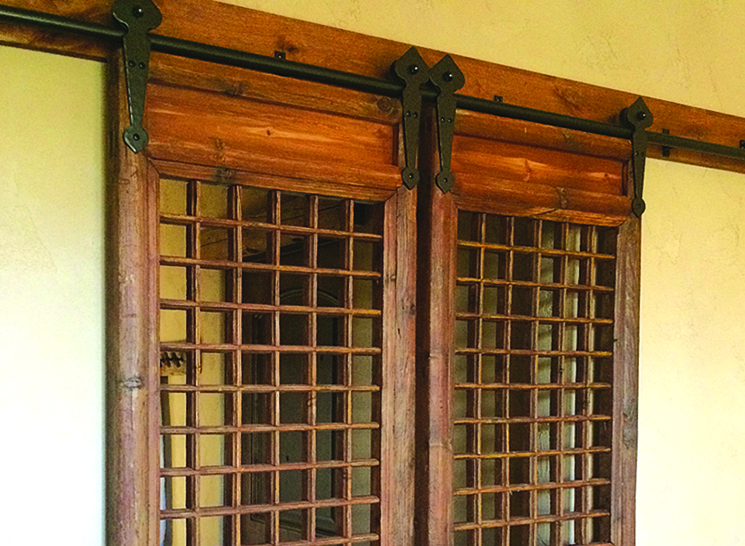 Barn door mounted to a header for stability
5. You'll need a handle; maybe a latch
A handle or pull lets you slide the door open and shut easily, and it looks great. This works on the outside, but you'll need to install a recessed pull on the inside so the door clears the door jamb when it slides open.  If your barn door is the entry to a bathroom or bedroom, you'll find different privacy latching solutions available, from a hook and eye closure to a latch with strike plate – even a decorative deadbolt will work.  Choose handle, recessed pull and latch in a style and finish that complements your door and hardware.
Barn doors can add beauty and function to your home in so many ways. Consider a pantry door, partitioning off the laundry room, concealing your wall mounted television and more. Let your imagination fly, and happy installing!