Conquer the chaos with a garage organization system
Yes, it's spring again, and if you're like homeowners everywhere, you've decided this is the year you will finally conquer the chaos that is your garage. So where do you start?
Take stock of your current storage
First, take a look around your space. Chances are you're storing things using one or all of these:
Nails, the obvious choice. There's nothing cheaper and easier than grabbing a nail and pounding it into a stud. Works for most things that hang in the garage, but it is inefficient.
Pegboard with hooks. Fairly common storage, again for hanging items. Pegboard lets you move things around easily, and it's versatile enough to hang a short pair of garden shears next to a long handled shovel.
Bins and bags on the floor. Rarely a good choice. Big bags and bins of pet food, salt, fertilizer, etc. take up valuable space, plus moisture can collect under them, making an even bigger mess.
Shelves and more shelves. Necessary but often disorganized storage for cans, bottles and containers of all kinds.

Garage chaos: Do these look familiar?
Look what you have in store
Now, look at the kinds of things you keep in the garage. Think about your stuff in four general ways:
Things that "sit," like boxes, bottles, bags, cans and bins
Things that hang, like electric cords, hoses, yard tools, stroller
Different sized things – wide, deep, high, round, square
Things to store at different times: seasonal decorations; bicycles, skateboards, sleds
What you need is to store everything in one neat, organized place. Ideally it would mount to the wall, store all your various things, install in a snap and change up as your life changes.
There's a system for that
For a KV solution that does all that and is available right here on this site, take a look at The Matrix Wall Organization System.
Six ways to hang. The Matrix starts with six different hanging storage accessories, all manufactured from hardened steel with a rubberized coating to protect your stuff. There are five kinds of hooks and an adjustable strap bracket to hold all kinds of things, 25 lbs. to 50 lbs., depending on the accessory.

Accessories shown: double hook (2), loop hook, long handle hook, single hook. Not shown: bike hook and adjustable strap bracket.
Three ways to install. The great thing about these accessories is that you can hang them three ways: screw into a stud, affix with a wall anchor or mount them on the horizontal hang rail you can get as part of the system.


Three ways to install accessories: Screw directly to a stud, anchor to drywall or attach to a hang rail.

Handy hang rail. If you want to, you can put all your Matrix accessories on the hang rail (mentioned above), which you can also mount directly to the wall. You can attach the hang rail to wall standards using special hang rail adapters, too. And once it's up, you can rearrange and add accessories when you need to.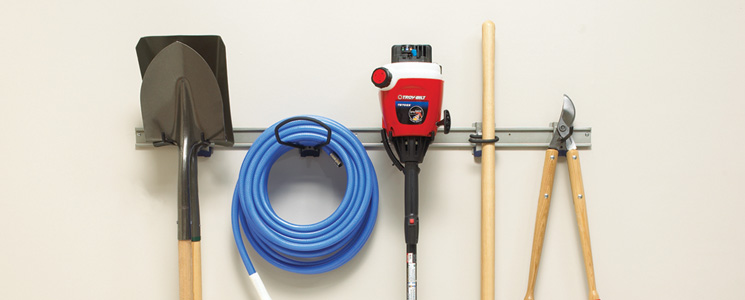 Accessories for hanging can be mounted on a hang rail, available as part of the system
Shelves make it complete. Hangers alone can't store everything, so this system lets you add shelves to the hang rail. Get a couple of wall standards, plus the special standard links that let you hang the standards on the hang rail. Next, position shelf brackets on the standards, then add shelf board.

To add shelves to the system, hang wall standards on standard links that mount to the hang rail. Then add brackets and shelf board.

Now almost everything in your garage can be organized into this one dedicated space.  And you can move, resize and rearrange it however you need to, whenever you need to.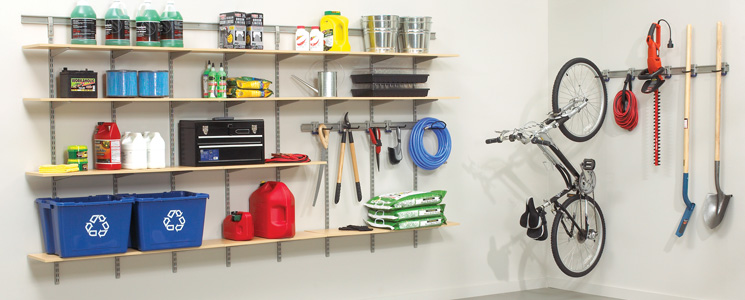 Think of it — everything now hanging on nails and pegboard can be contained neatly on a hang rail or two with a few shelves added to organize the rest. That's everything. Including the hose, the weed whacker, the bicycle, plus boxes, bags, bottles and bins; all the canisters, cans and containers. Not to mention Rudolf, Santa, the Easter bunny and holiday wreaths in several sizes.
And what about those big storage tubs, the holiday tree, skis, a kayak or canoe? Check out HyLoft ceiling storage for the really big stuff.
Now, on to summer.