Taking the kitchen outdoors
In some areas of the country, al fresco dining is almost always in season, and with outdoor eating comes outdoor cooking and the increasingly popular outdoor kitchen. No more is it enough to stick dad in front of a grill on the patio with his tongs and spatula. Nowadays we are taking the galley itself into the open air, with amenities that range from a simple built-in grill with prep space to a full kitchen complete with water, gas and electricity.
Now that it's almost grilling season here "Up North," we've been scoping out open-air kitchens and thought we'd share a few. Enjoy!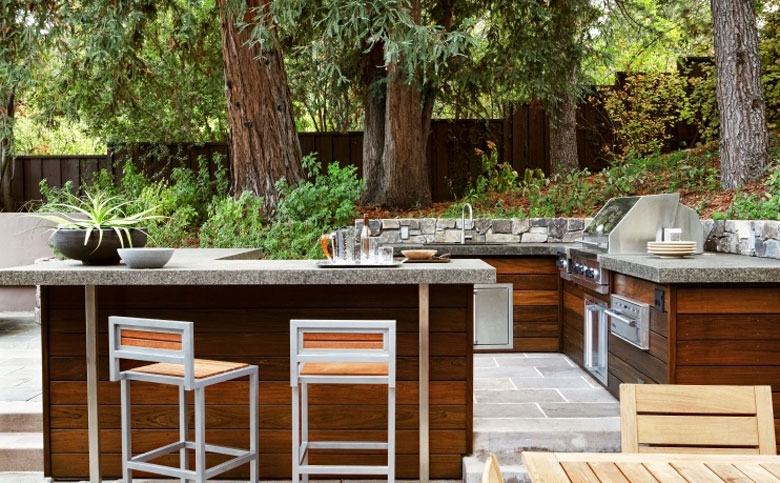 This contemporary-style kitchen features a built-in grill with stainless steel refrigerator and cabinetry. Clean lines plus wood and gleaming finishes are complemented by the surrounding woodland setting. (Via This Old House.)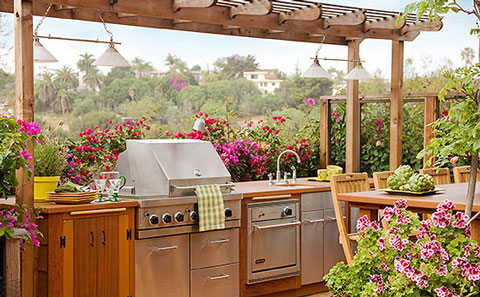 Built with a view and edged with beautiful florals, this patio offers up a pergola-covered full-service cook/prep area with lighting. (Via Better Homes & Gardens)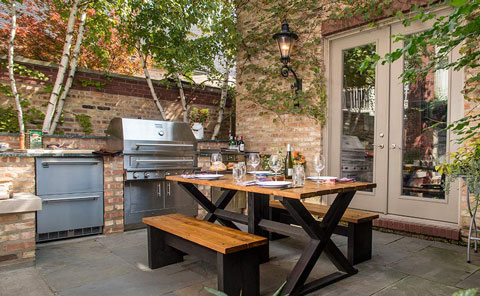 Even a tiny backyard can hold everything you need in an outdoor kitchen and dining area. The drawers to the left of the grill are refrigerated, shown in detail below. (Via Kalamazoo Outdoor Gourmet)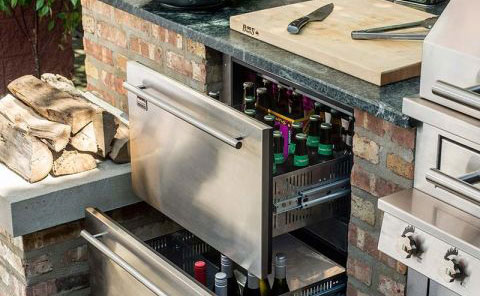 The stacked two-drawer refrigerator is the outdoor chef's way of keeping food and drinks cold and nearby. (Via Country Living; drawers from Kalamazoo Outdoor Gourmet.)
These drawers are stainless steel construction right down to the drawer slides. KV's medium-duty 6400 Drawer Slide would definitely be called for in an application like this. It's a 100-lb. class slide fabricated from 304 Grade stainless steel and has USDA H-1 approved grease for use in food environments. It is specially designed for the wet or corrosive environment in your backyard kitchen, near the shore or on a boat.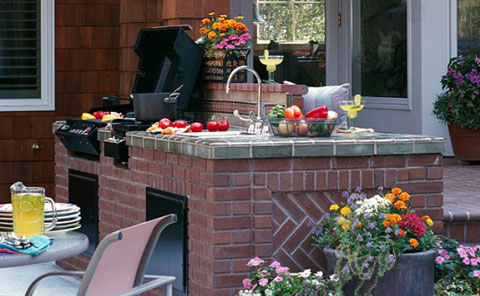 If you're into something less elaborate, a grill with a sink and prep area close to the house lets you serve up thoughtful meals without having to run water and electricity too far into the yard. (Via Better Homes & Gardens)
Whether it's a fully functional kitchen or a more modest grilling station, you'll want your outdoor kitchen to have plenty of cooking/prep space and comfortable seating for family and friends. A sink and small refrigerator, plus storage for barbecue necessities are nice to have as well. And don't forget to turn up the ambiance by adding plants, flowers and lighting, whether candles, lanterns or strings of lights. Outdoor kitchens are definitely here to stay, bringing many of the comforts of home into the big, beautiful outdoors.