Under-cabinet pull outs: smooth moves for that kitchen remodel
David C. Wood from Chatham, Ontario, wrote recently to give our kitchen pull-out systems some love.
"We have an older home with a dated kitchen," he wrote. "I really wanted large, deep drawers for pots, pans, fry pans (6 assorted sizes), mixing bowls, etc." He and his wife also wanted to deepen the pantry to add some storage space.
An estimate from a remodeler came in higher than expected. Wood's wife recalled seeing some cabinet inserts at a home store, "so we went out to look, and as soon as I saw your product[s] I knew they would do the job if they would fit." He copied the measurements from the boxes and went home to measure his base cabinets.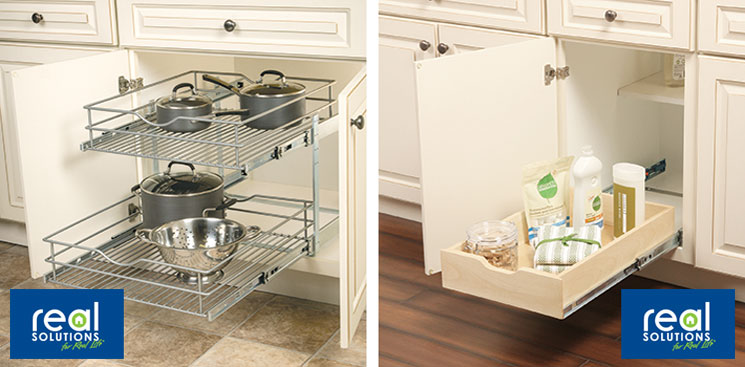 Double-Tier Multi-Use Basket (left) and Soft Closing Wood Cabinet Drawer, both from Real Solutions for Real Life by Knape & Vogt
To make a long story short, Wood purchased and installed two 11-inch and two 14-inch Double-Tier Multi-Use Baskets into the existing cabinets. The baskets are from Real Solutions for Real Life, a KV brand sold through retailers. They feature two wire drawers that move independently on ball-bearing slides for easy access to their contents.
The couple was happy. "All pots, pans, fry pans, mixing bowls, pie pans, etc.," went into the new baskets, he wrote. "We are seniors and I had to sit on the floor to sort out which fry pan or pot I wanted. Now I just pull on a basket, which glides out ever so smoothly, and I simply pick the pan I want."
Next, Wood tackled the pantry, where after measuring and building out the shelf depth himself, he installed two more 11-inch Double-Tier Baskets and a single 11-inch Soft-Closing Wood Cabinet Drawer, also from Real Solutions for Real Life.  "This more than doubled available storage space," wrote Wood, who says he does the majority of the cooking and baking. "The units glide out effortlessly, and everything is within easy reach."
"Your products are fantastic," Wood continued. "They have overhauled my kitchen and gave me all the user-friendly [storage] I wanted. New counters [were] installed early October, and we will have our 'new' kitchen" for far less than the remodeler's quote.
The couple has a winter place in Ft. Myers, Florida, where Wood also has plans for the kitchen: "As soon as we get there I am going to be measuring and going to buy more units. Bottom line, the products are great and really made a difference. I have spoken very highly of them to everyone."
The Double-Tier Multi-Use Basket from KV is available on this site. You might also like the KV wire Multi-Use Basket.