Drawer Slides: Heavy-Duty Does It
Drawer Slides: Heavy-Duty Does It
For strong, durable drawer slides that will perform in all kinds of demanding applications, check out four of our heavy-duty and extra heavy-duty ball bearing models.
KV 8800 Series Heavy-Duty

Wide drawers (up to 42") with heavy loads in commercial, residential and educational applications such as wood office furniture, casework, store fixtures, medical carts and kitchen cabinetry call for KV 8800 Series slides.
The KV 8800 is a 200 lb. class full extension drawer slide that features a lever disconnect for easy drawer removal, hold-in detent that ensures effective closure with no bounce back.
The KV 8805 is a 200 lb. class 1" over travel slide that features a quick disconnect rail for quick and easy drawer removal.
KV 8900 Series Extra Heavy-Duty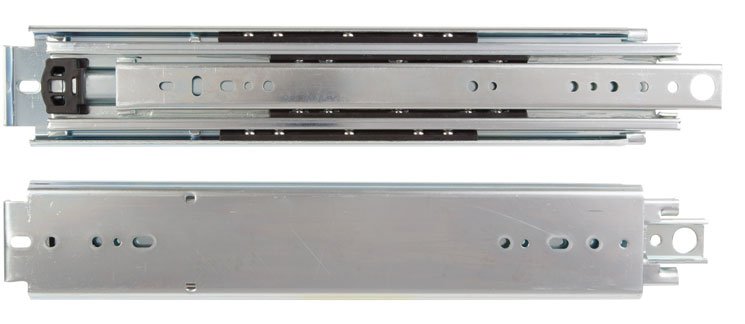 For rugged applications in heavy-duty storage, work stations, tool storage, and specialty commercial or industrial vehicles, the  KV 8900 Series is a hardworking 500 lb. class full extension drawer slide. It is non-disconnecting and recommended for drawers up to 48" wide. 
The KV 8900 is a 500 lb. class full extension drawer slide with non-disconnect and rear bumper features.
The KV 8908 500 lb. class full extension slide offers strength and toughness for applications that require lock-in/lock-out features, such as vehicle, industrial or commercial large storage drawer applications. Its uni-directional locking mechanism engages with a simple push or pull and it features spring-activated latches for vertical and horizontal mounting. In narrow drawer applications, the locking 8908 slide is often used on one side and the non-locking 8900 on the other. For wider drawer applications, locking slides on both sides is recommended.
Need more information? For slide specifications and downloadable heavy-duty or extra heavy-duty 3D slide profiles, check our website Resource Library.