HyLoft Wall Storage: hard-working shelving for garage and more
HyLoft Wall Storage: hard-working shelving for garage and more
HyLoft® Wall Storage Kits are ideal for making the most of virtually any unused wall space in your home or garage. Whether you need to shelve just a few items or organize an entire wall full of cans, containers, bags and bins, they're the perfect solution for tidying up the garage, closet, basement, laundry room, shed–or any other place where there's room on the wall for shelves.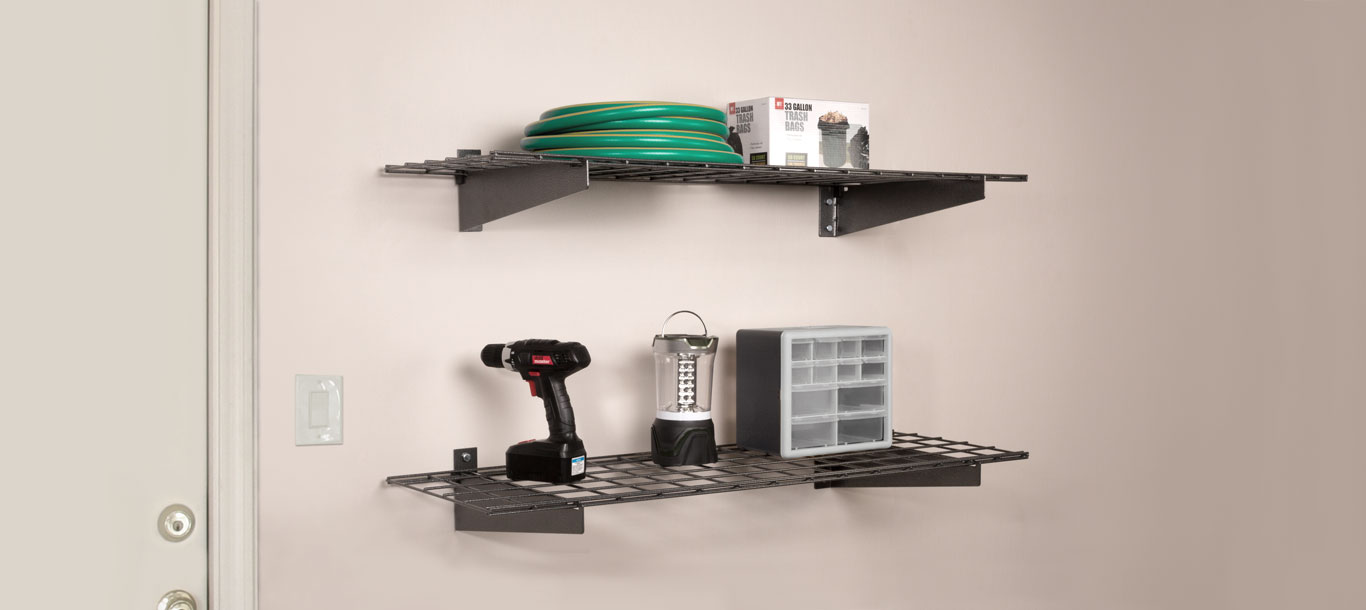 HyLoft 45" x 15" 2-Shelf Wall Storage Kit in Hammertone Gray
Each wall kit contains two heavy-gauge wire shelves and four low-profile brackets that maximize storage area. Rigid, all-steel construction gives these shelves outstanding strength while a scratch-resistant powder coat finish in white or hammertone gray protects and looks great for years.
The shelves hold 150 lbs. each and can be stacked or mounted side by side on finished or unfinished walls. The entire unit can be installed easily by one person in about 10 minutes. Add-on storage racks and hooks are available to increase storage capacity.
The two-shelf kits are available on this site in these popular sizes:
    36" x 18"
    45" x 15" (Our most popular; holds 200 lbs. per shelf.)
    48" x 24"
    45" x 15" for slat wall panels
Accessories
Attach a Heavy-Duty Add-on Rack or Add-on Storage Hook to these kits for endless ways to keep things off the floor and out of the way. Made of strong, durable steel with attractive, scratch resistant finishes, the add-ons let you store tools, skis and other sporting goods, lumber and plenty more. No-tool installation provides strong, safe and secure added storage instantly.
For more garage storage solutions, check out HyLoft Ceiling Storage Units.